IT & Research Engineer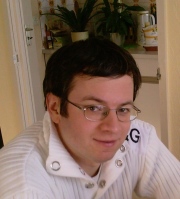 Rudy ERCEK
Tel.: +32 (0)2 650 26 93
rudy.ercek@ulb.be
Ecole polytechnique de Bruxelles
Campus du Solbosch - CP 165/57
Avenue F.D. Roosevelt, 50
1050 Bruxelles
General informations

In summary,

IT & Research Engineer
Degree in Telecommunication Engineering
PATGS "Ingénieur principal"

Research & technical activities

Some activities:

Management of research projects in signal processing and 3D
System engineer for all research projects : server, network and computers management (websites, storages, ...)
Collaborations for 2D and 3D Image processing and analysis
3D Scans acquisitions and post-processing for PANORAMA
Signal processing : EEG, speech, ...
Electronic developements (hardware, software) : IoT, smart cams, ...
Multimedia devices for exhibitions e.g. this exhibition
Smartcampus involvement
GNSS (GPS) Channel Modeling : study of NLOS-Multipath

Teaching

Mainly:

Supervision of BA2, MA1 Projects and Master Thesis
Biomedical BA2 projects organization and preparation

Publications

LOADING... Please wait !
Updated on April 24, 2023